Elbe Sandstone Mountains - fairytale landscape
Feb 26, 2020, in Travel tips
I am sure every country still has it - a little piece of countryside not many foreigners (and here, of course, I mean "foreign photographers") know about. A hidden gem. A place to go.
For me, in Czech Republic the Elbe Sandstone Mountains represents this. It is also called "Bohemian Switzerland". Or, if you don't really care about the borders, "Bohemian-Saxon Switzerland", as the main area covers both sides of the border - the German and the Czech one. I don't want to bother you too much with the history, but the name Switzerland was given to this region by the romantic painters Anton Graff a Adrian Zingge in the end of the 18th century. Local landscape simply resembled their own homeland to them. But honestly - this name confuses a lot of people, as the real Switzerland is hundreds kilometres away.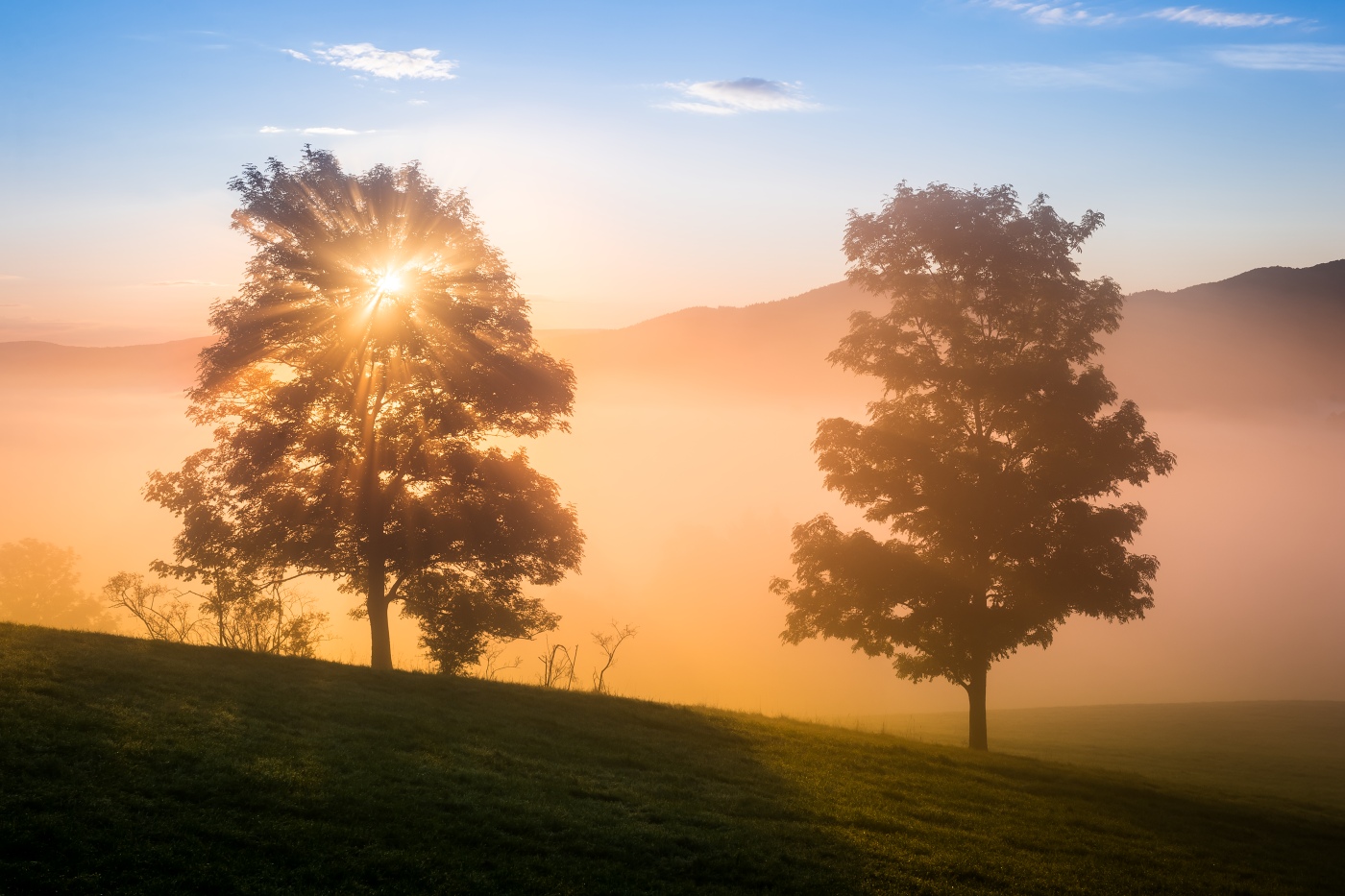 The mornings you spend up the hill can be really miraculous!
Nikon D4 + Nikkor 24-70/2.8 G ED
A little bit about it
Don't be mistaken by the word "Mountains" in the name. It is rather a formation of sandstone rocks, a labyrinth of valleys full of deep forests and mysterious brooks and rivers.
Really an interesting place for landscape photographers! Mark my words!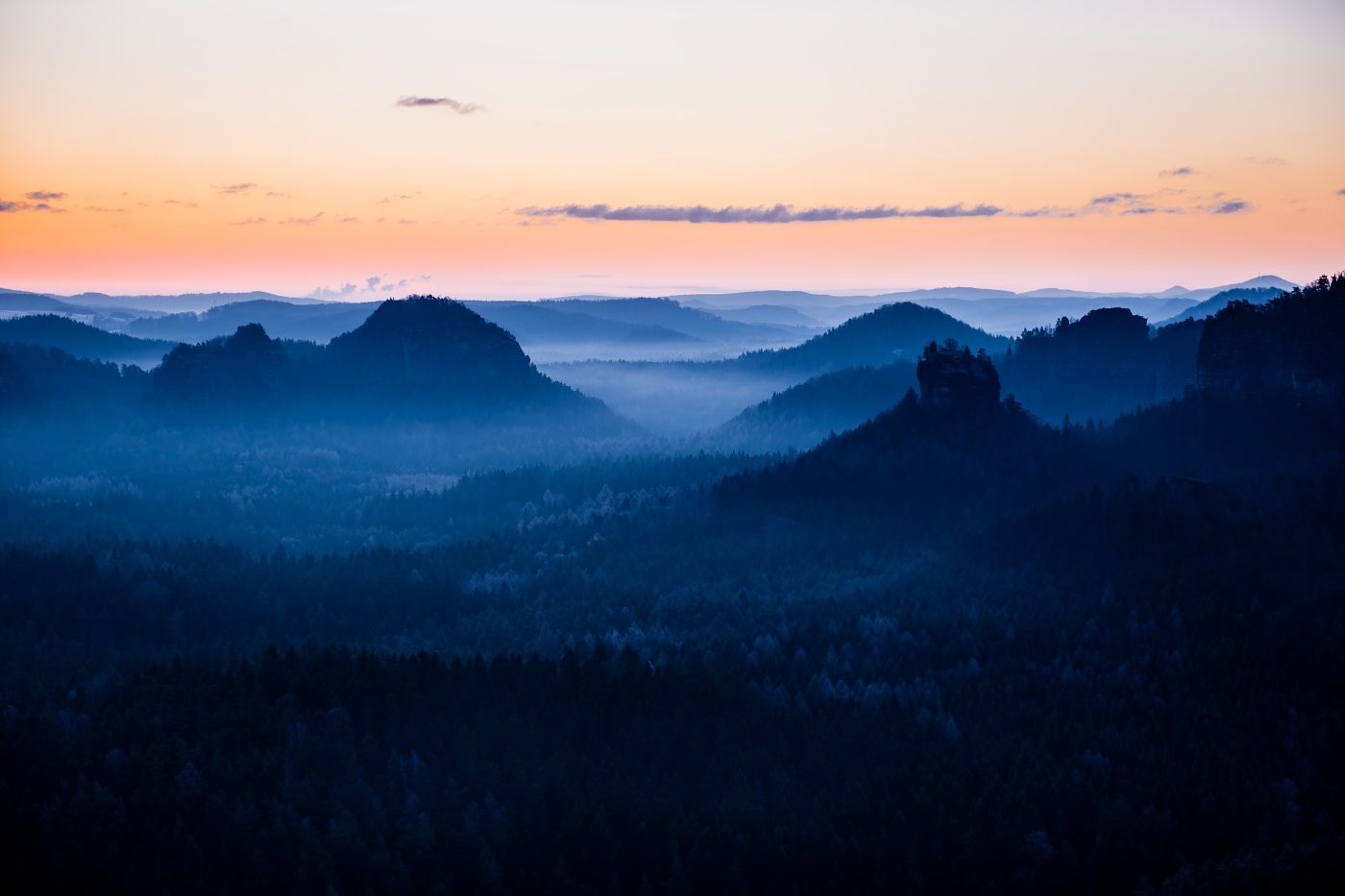 Overlooking the forests, rocks and peaks, I sometimes get the feeling I am watching places, where nobody set their foot yet. Of course, this can not be true, as in Europe hardly exists such a place in our time, but the feeling is still there!
Nikon D4 + Nikkor 24-70/2.8 G ED
Versatile landscape with a versatile weather
What I like most about this part of the Czech Republic is the versatility. For instance in South Moravian region (aka Moravian Tuscany) you will mostly shoot with the telelens only and when the clouds come, you can hide into the wine cellar, because most probably you will not get any decent picture (of the landscape! You can still get some pics in the cellar though).
But Bohemian Switzerland is different! There are many views where you can enjoy sunrises and sunsets when the weather is nice. But when it is not, you can dive into the valleys and discover the wild yet beautiful brooks and rivers. And when there is a fog or even very low clouds, which would normally keep you in the bed, you can enjoy this special weather in the beech forests and create truly unique photographs!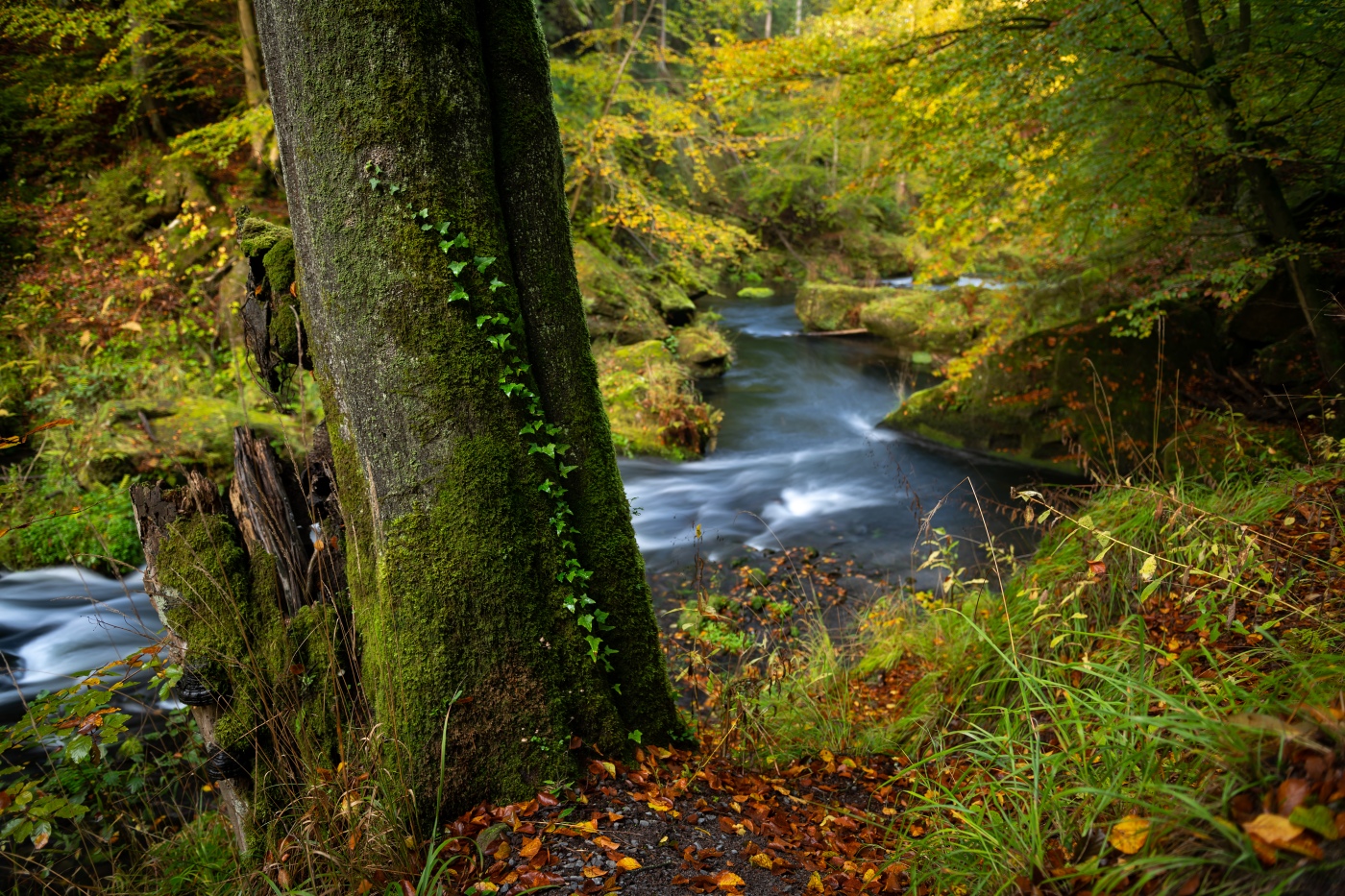 One of the beautiful brooks, Kamenice river. This one is very easy accessible, so you don´t really need to walk far.
Nikon D850 + Nikkor 24-70/2.8 G ED
During one of the workshops in October few years ago I even experienced three seasons during one weekend only!
When we arrived on Friday afternoon, it was Autumn. The hills were colorful with wide palette of colors, the weather was rather cold and hazy with some rain or drizzling. But during the night, the temperature fell rapidly and raining became snowing. In the morning there was 30 centimetres of a fresh snow, so it felt like Winter. And a very special Winter too, because there were still the colorful trees all around. We fell into some kind of photographic frenzy, trying to capture all the unusual beauty around us.
What up in the hills looked like Winter, looked still the same Autumn in the deep valleys and gorges, as the snow didn't almost reach there.
During Saturday the sky cleared and on Sunday morning the snow on the trees started to melt quickly so Spring was "finally" here.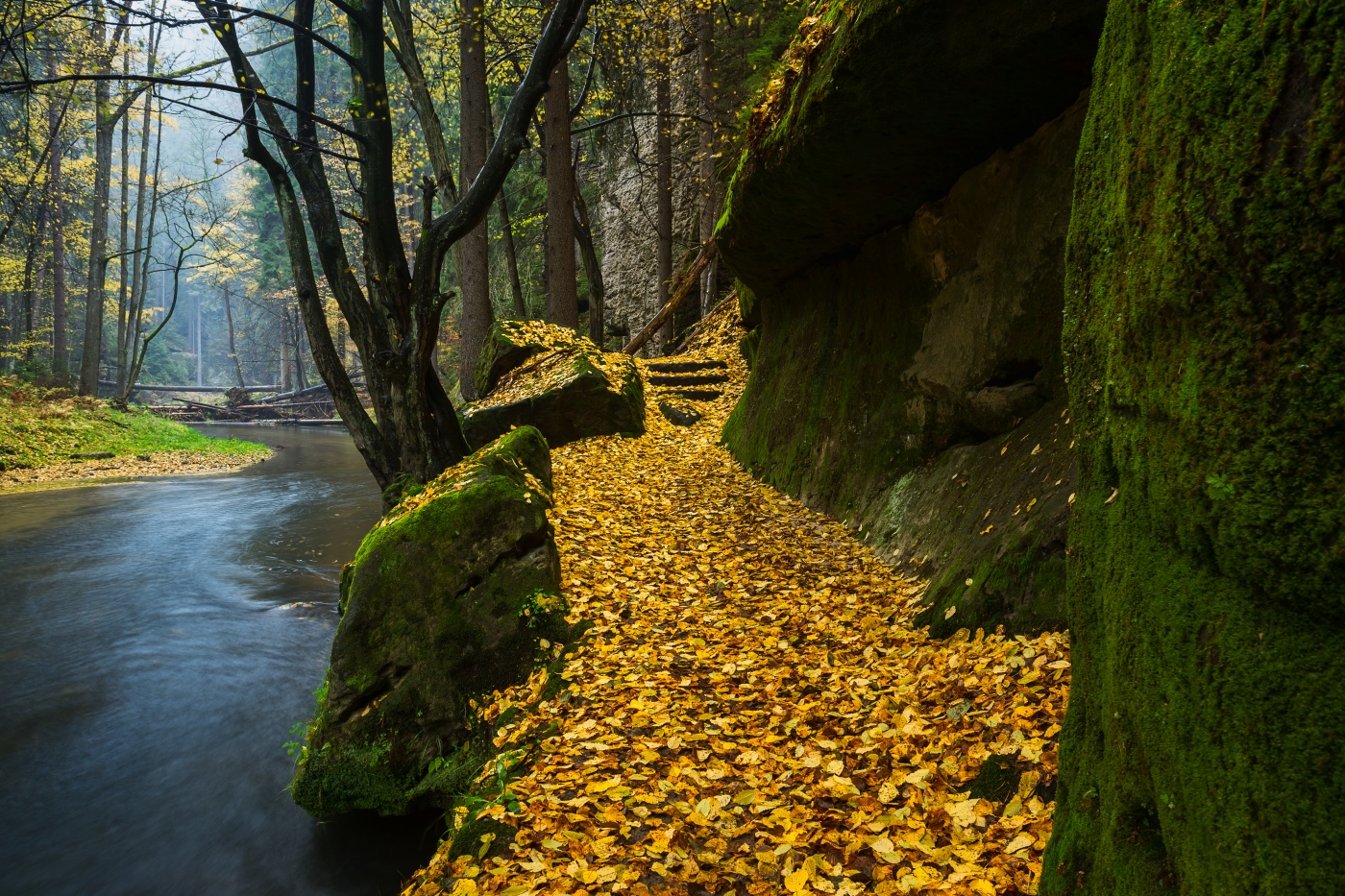 Autumn in the deep valley, where the snowstorm didn´t reach.
Nikon D4 + Nikkor 24-70/2.8 G ED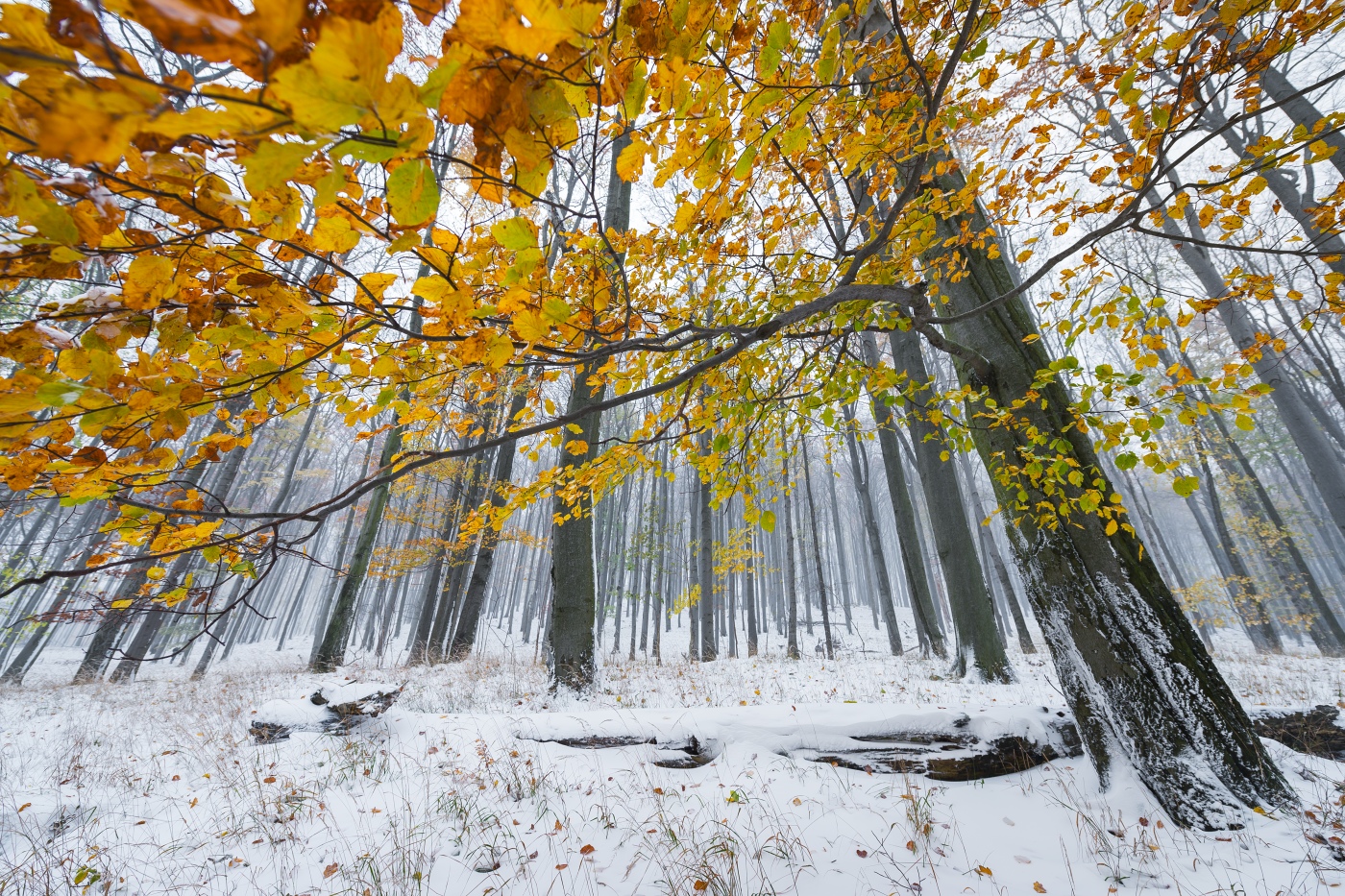 Winter with the autumn spritz :)
Nikon D4 + Nikkor 14-24/2.8 AF-S G ED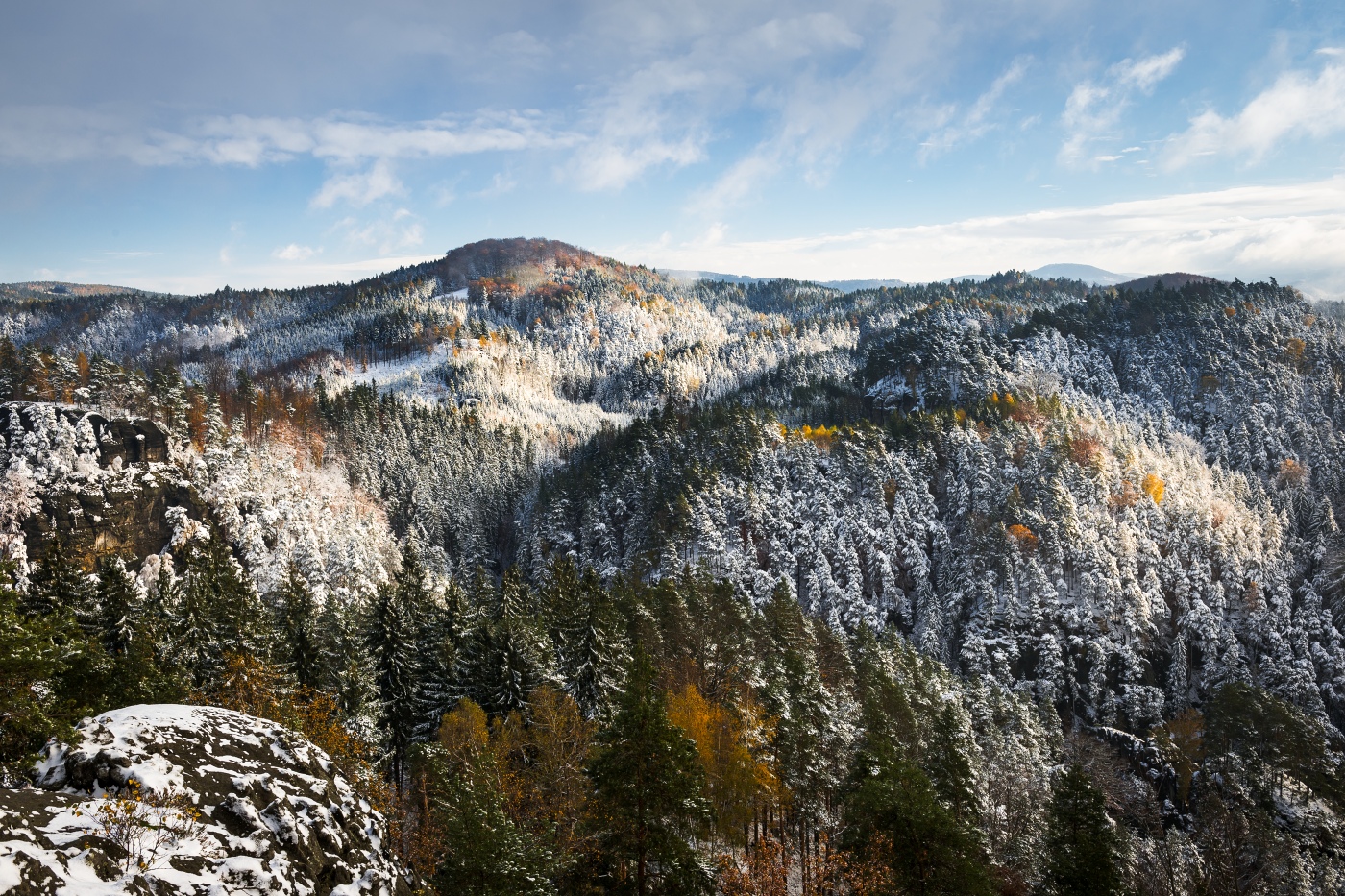 With all the colorful trees it is not real Spring, but it felt like it that morning!
Nikon D4 + Nikkor 24-70/2.8 G ED
Weather surprise
It is not just enjoyable photoshooting what you might experience during the rapidly changing weather.
In 2017 it was raining from the very beginning of our workshop. It was OK during Thursday evening (as I arrived later with one client with later flight to join the group). It was not that OK during Friday when we spent the whole day shooting in the relatively light rain, but on Saturday my camera said "enough" and showed the Error sign. It was (well, it IS, as I still have it) weather sealed, but the weather we experienced was probably far beyond "weather"...
But it was still nothing compared with what came next day.
I needed to leave early in the morning, for one client's flight was early.
Let me stop and urge you guys here a bit! Try to book your flights with some time around the workshops. Coming late and leaving early might stripe you of some valuable moments, not speaking about the problems it might bring to the whole group.
Here in 2017 it fortunately brought just some adventure we didn't expect.
It was raining heavily when I woke up on Sunday morning. I decided to bring the car as close as possible, as it was parked ca 150 meters from the accommodation and I didn't want the client to get too wet. Once I left the building a heavy wind gust almost knocked me down. I looked around through all the water in the air and saw the dust bins on the floor, street lamps not working,...
I got completely wet during those 150 meters I walked to the car. It was necessary to lock the door of the building as it didn't keep shut closed only.
And we still needed to drive for 2 hours to the airport...
We found the first tree fallen on the road in about 15 kilometres. It was still OK, as I was able to drive through the branches of it. With the next one, there were already fire-fighters cutting the trunks. And in a few kilometres I was calling the fire brigade myself when finding another fallen tree. We took about a dozen "shortcuts" making the way still longer and longer...
Making long story short, we stopped counting the fallen trees by the number of 8. It took us only three hours instead of normal two to get to the airport, but we made it on time.
I didn't know for a long time that the flight got delayed and the client left the country at around 4pm instead of 11am...
And the whole weather even got it's name, which is very rare in Czech Republic. So now I can say we fought our way through the Cyclone Herwart!
Even though there was no direct sun light in the countryside, it still has some atmosphere.
Nikon D4 + Nikkor 24-70/2.8 G ED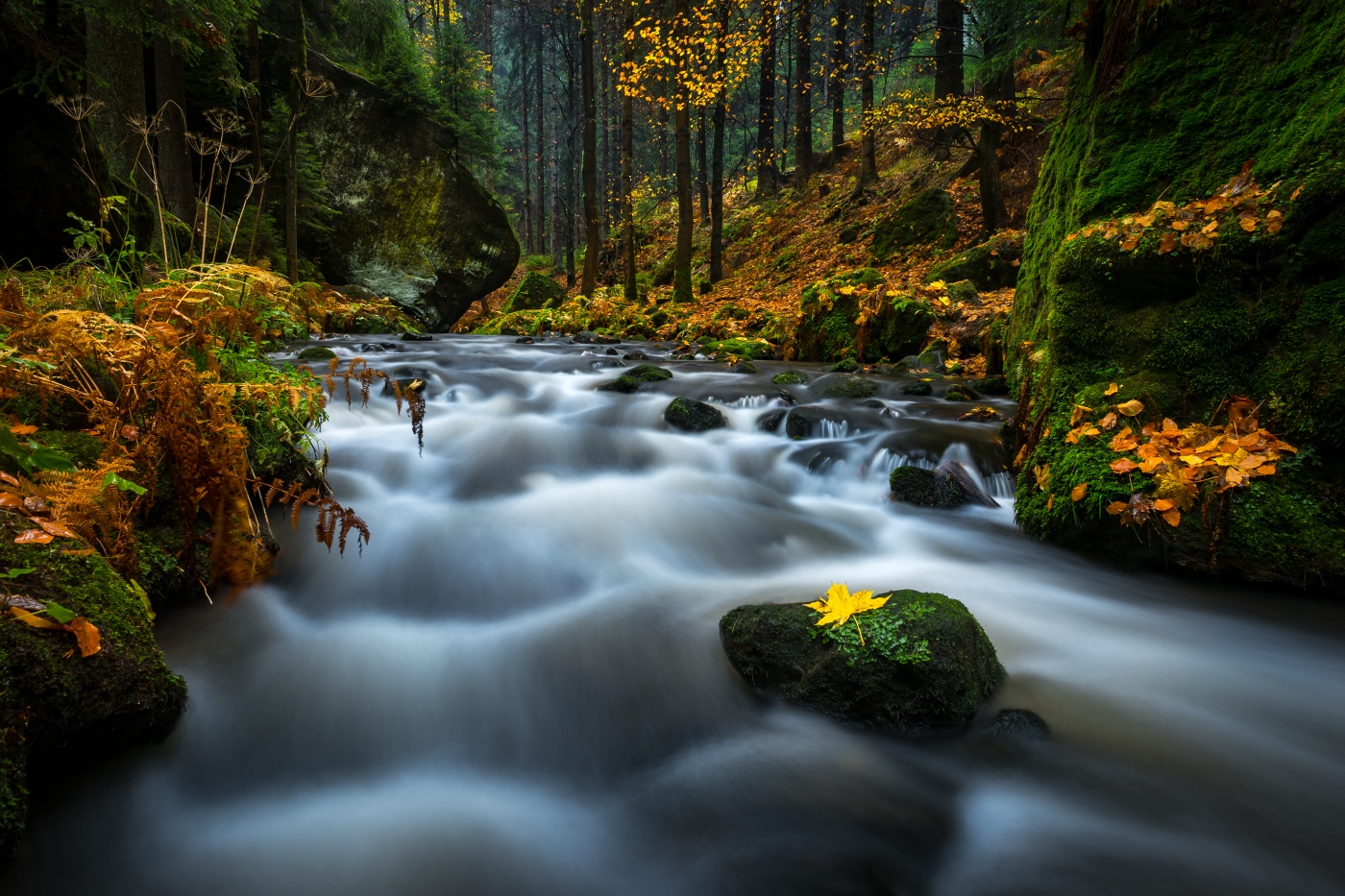 Wild streams and rivers are ideal place to go to take photographs when the weather is moody and rainy.
Nikon D4 + Nikkor 24-70/2.8 G ED
To sum up
It may look like I am complaining about this, with the terrible weather and the camera broken, but it is the other way.
I have experienced a lot here and I always love to come back! Speaking about the wonderful sunrises and sunsets might be bit boring, but such a challenging conditions is what brings the real adventure!
And yeah, you can enjoy it with us. During the spring, there is a Photo Tour to this beautiful place with Bohemian Journeys, held by my colleague and friend, Martin Rak.
Bonus - location tips
As a small bonus to this article, I prepared three genuine tips which photographic locations to visit even when you have never been to the area!
Photo location nr. 1 - Křížový vrch
Very easy to access, as it is in the walking distance from the car - just 5 minutes walk up the hill, Křížový vrch offers the 360° view.
It is a great option for both sunrise and sunset.
Of course, being this easy to reach, it is often crowded with photographers, especially in the main season (October) during the weekends.
How to get there:
By car to the village of Rynartice. In the middle of the village turn up the hill towards the red building of Hotel Zámeček and park your car left next to it at a small car park (free). Walk straight uphill through the meadow and choose left (sunset) or right (sunrise) part of the hill for your photoshoot.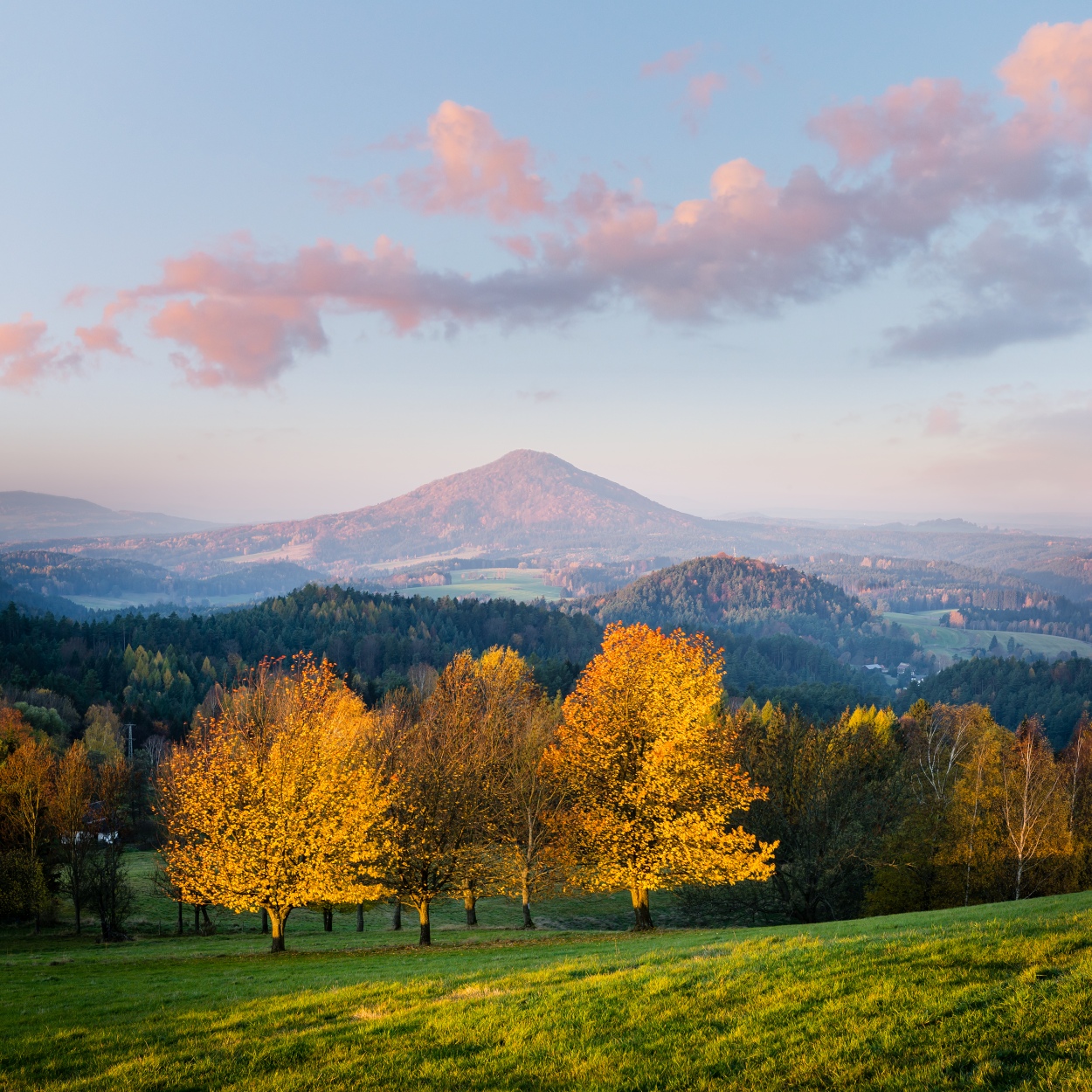 Sunset side of Křížový vrch during autumn.
Nikon D4 + Nikkor 24-70/2.8 G ED
Photo location nr. 2 - Gorges of Kamenice river
This one is quite unique and I am sure it is enjoyable for both tourists and photographers.
You may choose a shorter option with just walking, or longer, where there is also a pram sailing through the canyon.
How to get there:
Park your car in Hřensko village (paid parking) and follow the yellow mark tourist trail through Edmond's gorge. At the end of the gorge you'll find a spot to board the pram. Here you can choose whether you will simply walk back, or pay for the pram sailing (one route, adult ticket, is ca 3,5 EUR).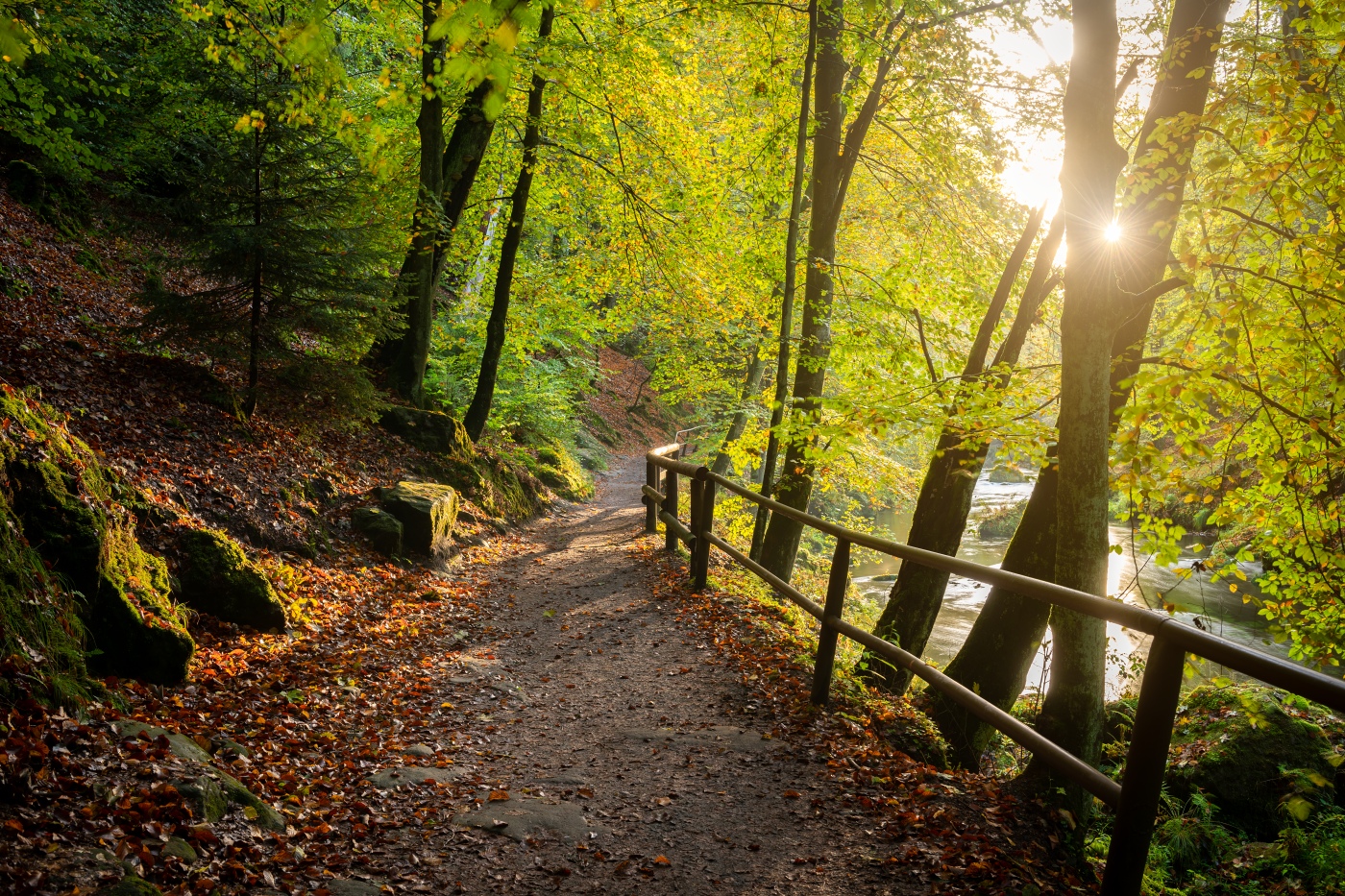 The valley of river Kamenice.
Nikon D850 + Nikkor 24-70/2.8 G ED
Photo location nr. 3 - Bastei bridge
This is yet another spot, where you will not need to climb steep hills, but you will be able to enjoy spectacular views!
How to get there:
Ideally by car.
If you are coming from west, drive to Lohmen village and continue via Basteistrasse to the parking place.
If you are coming from east, drive through Rathewalde village and then turn left to the Basteistrasse.
The route is well marked and you will see the "Bastei" signs all along.
After parking your car on official (and thus paid) parking place, continue in the direction you came there and pass the Bastei Hotel. After the hotel walk straight to get to the bridge itself, or turn left to a small view called "Ferdinandaussicht" (Ferdinand's view), which is probably the best spot to take your photograph.
Be prepared, that, due to the easy access to this location, it may be crowded here even in the early hours!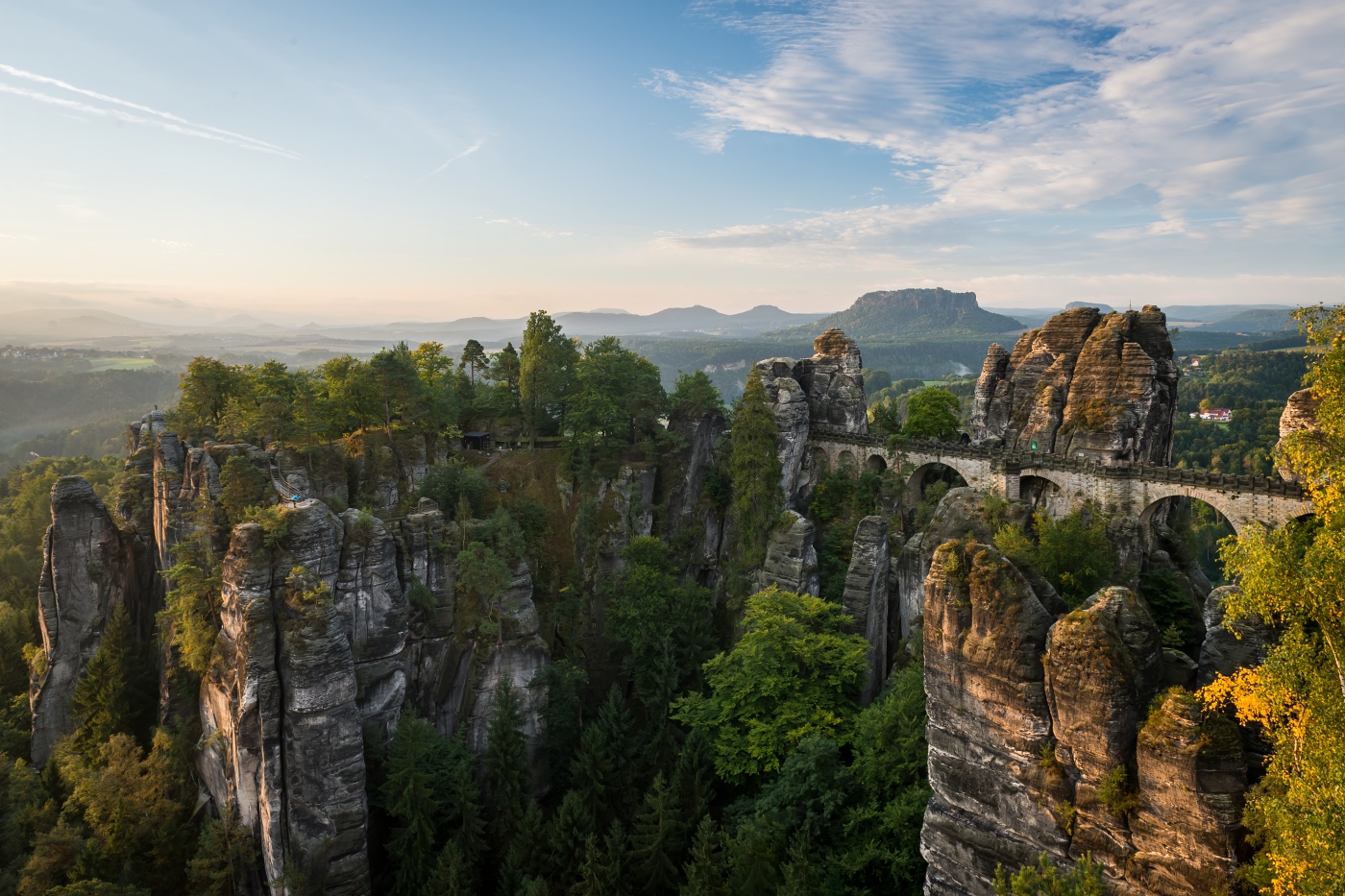 View of Bastei bridge from the Ferdinandsaussicht.
Nikon D4 + Nikkor 24-70/2.8 G ED